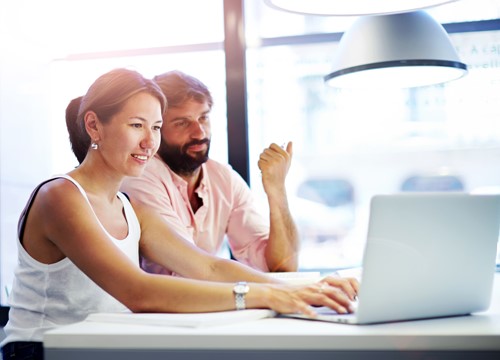 Photo by GaudiLab via Shutterstock
In the rush and excitement to find the perfect home and make it yours, there are some things best learned beforehand rather than through hindsight. Here are some suggestions from first-time homebuyers that would have made the entire process less challenging.
Know where you stand.
If you plan to buy a home, even if it's a couple years out, you need to assess your current creditworthiness so that you can move the needle to improve your credit score. Making sure that your credit reports show the correct information is not something to leave to chance.
Order your credit reports from each of the three major reporting agencies (TransUnion, Equifax, and Experian).
Review all the entries carefully. Sometimes, credit card accounts have different names on the credit report than on your card, so review your statements to match up accounts with their identifiers.
If you find mistakes, request a review with the credit agency. All three have error mitigation instructions on their websites. Follow the instructions carefully.
Review any slow pays and rearrange your payment schedules so that you're up-to-date and on-time for everything.
Create your budget.
While this doesn't work for everyone, a good rule of thumb is to keep your home price within two and a half times your annual income. That means if you make $80,000 per year, set your budget at $200,000 or less. If your income calculation includes dual partners or spouses, but you intend to add children to the household, consider how you might eliminate that second income. If you calculate your purchase based on one income your budget is more secure.
Determine your down payment.
First-time homebuyers typically qualify for FHA loans with just a 3.5% down payment. Others may be eligible for VA, USDA or Conventional 97 LTV programs too. But with less paid down, your mortgage payments increase because the loan is higher and includes the added cost of Private Mortgage Insurance (PMI). If you can put more down to get a better rate and reduce your mortgage payment, consider it. Conventional loans usually ask for a 20% down payment, but you'll often get better interest rates and lower payments.
Decide on a loan term.
A fix-rate mortgage for 30 years is the norm, but not the only option. You can find loan terms for 8 or 15 years too. If an adjustable rate works for you in the short term, you'll find those as well, but if you choose an adjustable-rate only because you couldn't otherwise afford the home, you might want to wait or adjust your budget.
Get pre-approval from your lender.
Your bank looks at all your income, assets, credit history and other aspects. Getting the lender to give you an informal approval helps you determine if you'll be able to borrow a specified amount of money to buy a home. Use the numbers your lender gives you to refine your budget.
When you're ready, find a buyer's agent to represent you in your home search and let the games begin.