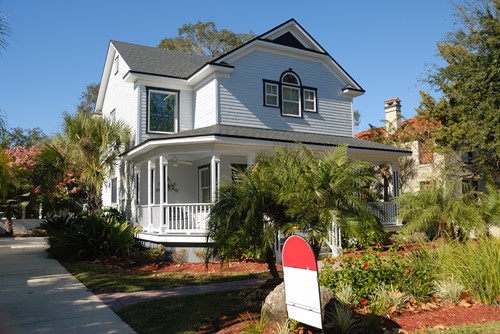 Whether you are putting your house on the market or just need a new look, there are plenty of exterior renovation projects you can handle yourself. The best part is that most of them are budget-friendly and easy to DIY. Here are some of the most affordable DIY projects to renovate your home's exterior:
Add a Path or Walkway
One way to transform the entire look of your yard is to add a path or walkway. While it's easy to spend a lot of money on professional hardscaping, it's just as easy to make one yourself on a budget. Make a pathway with regular mulch or gravel for a quick and low maintenance option that's easy on your wallet.
Replace Your House Numbers
The numbers on your house might seem like a minor detail, but upgrading them can have a huge impact. There are countless options available for numbers, all in different styles and materials. Try changing up your old brass numbers for rustic iron. Exchange dated tile for modern options that are easier to read from far away. This project only needs a few basic tools and can be finished in a single afternoon.
Refresh Your Light Fixtures
Give the light fixtures on your porch or patio some attention. Even without completely replacing them, you can revitalize your fixtures with some careful cleaning. Use a broom or large brush to sweep away cobwebs and dust. You can also paint the fixtures to change their look without spending a fortune. Change out the lightbulbs for energy-saving LEDs for ongoing affordability.
Paint Your Door
Giving your front door a new coat of paint will enhance your curb appeal and add a fresh look. Opt either for bright and dramatic colors or a color that fits in with the trim and fixtures on your home. Contrast with the house's paint color will make for an eye-catching change that only costs you a can of paint.
Spruce Up Your Yard
You can make a vast difference in your yard by spending some time on regular landscaping. This includes things like weeding, planting new bulbs or flowers, cleaning up the edges of the lawn and other simple DIY tasks. While seemingly insignificant on their own, doing these smaller projects will feel manageable. In the end, your hard work will combine to refresh the whole look of your front yard with no extra cost.