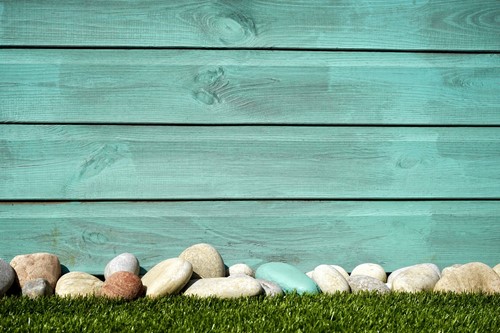 There are many reasons a garden wall can be beneficial to your outdoor space. Garden walls can help define and separate areas of the yard, add privacy and improve the view. You can even combine other features like outdoor fireplaces, lighting or water features to efficiently use the space while adding functionality. If you're thinking about building a garden wall or want to update an existing one, here are some ideas to get you started:
Plant Vertically
Living walls are a popular and functional trend for indoor and outdoor spaces. You can make a garden wall or simply enhance an existing wall by adding hanging planters. You can use a variety of different materials for the base of a living wall including wooden palettes and trellises. Attach planters with hooks and brackets or opt for a pre-made living wall starter kit that includes felt pockets.
You have a lot of freedom with your plant choices, too. You can include a selection of plants varying in sizes and shape, or you can choose a single plant for a more solid and uniform presentation. Mixing trailing plants with more compact varieties creates visual interest, as will different shades of green or other colored foliage. Just make sure whatever plants you choose will survive in your climate and the possibilities are endless.
Add Stone Veneer
If you love the visage of rough-hewn stone walls but don't have the time or budget, adding stone veneer is a quick and inexpensive way to get the same aesthetic. You can create or dress up a bland concrete retaining wall with a wide variety of stone styles and finishes. All you need is the siding and special adhesive to attach the panels.
For a more natural presentation, one fun idea is to add large rocks or boulders of different sizes and shapes along the top of the wall. This way you can mix in actual stone for decoration rather than build the entire wall with it. Stagger the stones of various heights and widths for a rugged and natural seeming stone wall.
Create More Function With a Sitting Wall
Many garden walls are meant for privacy or blocking off a space entirely, but others can define sitting areas. By placing low retaining walls strategically around areas of the yard you can set up different spots for conversation, contemplation and even dining. Walls in semi-circles around fire pits or outdoor fireplaces are excellent for adding natural seating as well as defining the space.
To dress up a multi-functional sitting wall you can add outdoor seating cushions or upholstered foam blocks. This will make for a more comfortable seat and give the entire space a cozy and inviting vibe.
These are only a few ideas for garden walls that will take your yard to the next level. Whether you need a wall for privacy, shelter or just to add some dimension to your landscape, these tips are an excellent place to start.